About the Space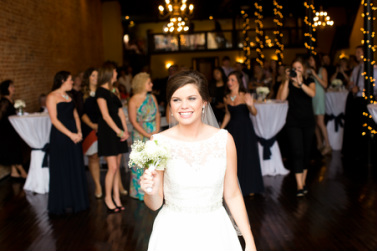 The Opera House Event Hall, located in historic downtown Humboldt, TN is the perfect place to host your upcoming event. Just minutes from Jackson and surrounding Gibson County towns, this gorgeous space offers everything you need to make your special event both memorable and stunning. Hardwood floors, antique chandeliers and the exposed brick walls provide an elegant setting for everything from wedding ceremonies and receptions to seminars. The historic charm of the flexible space, combined with the new modern features provides everything you need to make your event truly unique. It's your event, and we at The Opera House will make sure it's a success. The Opera House Event Hall can hold up to 300 people. Parking is free and abundant, and all available tables and chairs are all included in the rental fee.
---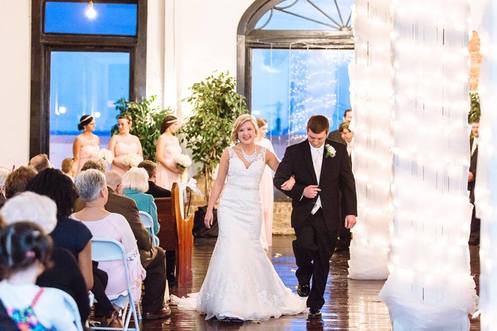 Need a place for your wedding ceremony? We have that too! Our beautiful upstairs space can seat up to 150 people and can provide an intimate setting for your special moment.

With a mixture of white walls and exposed brick, dark hardwood floors, a beautiful crystal chandelier, and large windows bringing in lots of natural light, this space also makes a good spot for professional photos.
---
For more information about holding your special event at The Opera House Event Hall, please
contact us
and we'll work with you to make your event truly spectacular.
There are many floor layouts for a variety of events. Here are some general guidelines.
The round tables shown in our diagrams below are 60" round, which can seat 8-10 people
The maximum for a sit down dinner is 200 people, with room for buffet tables. This is a spacious layout with room for a band/DJ and dance area.
The maximum for a standing/mingling reception is 300 people.
While we can accommodate a large crowd, groups of 50-70 will not feel overwhelmed by the banquet hall.
Downstairs Measurements
85 ft from front door to kitchen
38 ft wide
12 feet from center to center of poles
Front door to front pole 16 ft
Last pole to kitchen wall 14 ft
Ceilings are 16 ft high

Upstairs Measurements
38 ft wide
62 feet long
12 feet from center to center of poles
Ceilings are 12 ft high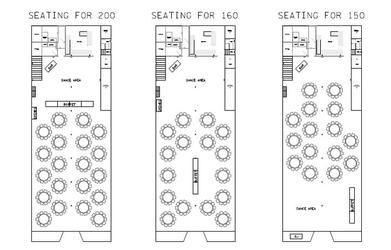 Parking Maps can be provided in a high quality resolution format if needed for invitations.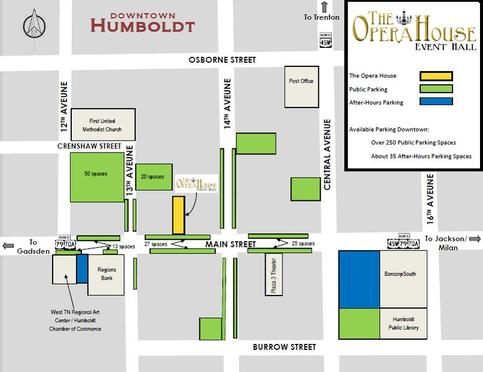 ---
About the Owners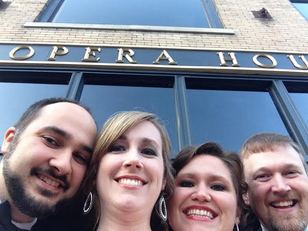 It all began in January 2012 when two young couples, with big dreams to turn around their small town, found out that a large space in historic downtown Humboldt, Tennessee was for sale.

Formally the Robbins' Nest Antique Store, this beautiful two-story, wide open spaced 7,500 sq. ft. retail building located at 1313 Main Street just begged to be restored. With visions of natural light coming through huge windows, exposed brick, and gleaming hardwood floors, these couples got to work immediately.

Jocelyn and Eric Bundy and Jessica and Lee Williams are now operating The Opera House Event Hall, a fitting name for what used to be used as an opera house in the 1890s. This will be rentable space for any event you can dream up.

---